Democrats are getting out of hand – so Donald just dropped the Washington hammer on every one of them.
Democrats have been playing grimy. Pelosi excluded Trump from his very own State of the Union, and they dismissed Trump's reasonable arrangement before America even heard it from Trump's mouth.
They want to pull off anything. Yet, Trump is giving them a painful but much-needed insight.
From USA Today: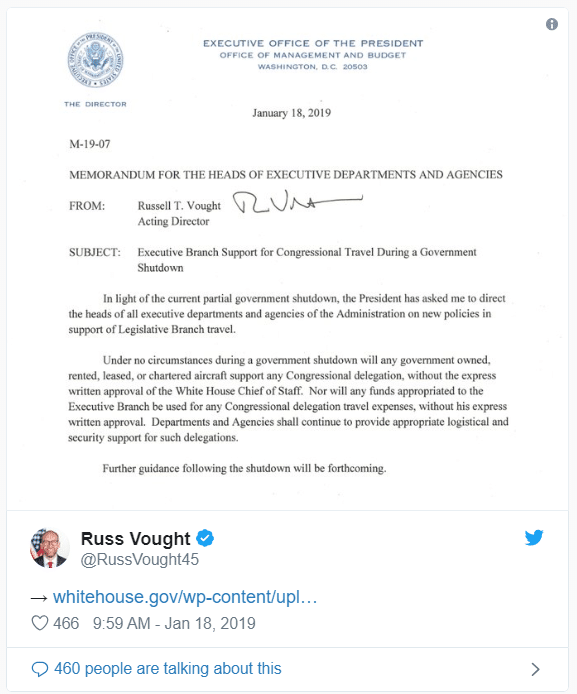 The new approach declared in a reminder to office heads, was set up one day after Trump dropped a military plane for House Speaker Nancy Pelosi, who was wanting to lead a congressional assignment to Afghanistan at the end of the week.
"By no means during an administration shutdown will any administration possessed, leased, rented or contracted airplane bolster any Congressional designation, without the express composed endorsement of the White House Chief of Staff," composed Russell Vought, acting executive of the Office of Management and Budget.
"Nor will any supports appropriated to the Executive Branch be utilized for any Congressional assignment travel costs, without his express composed endorsement," Vought's reminder said.
Offer on the off chance that you bolster President Trump cracking down on Democrats!
Only days back, President Trump hailed the floor covering out from Nancy Pelosi only minutes before her military plane was planned to leave for seven days in length trip during the shutdown.
In any case, presently, Donald is letting realize this is anything but an individual fight with Pelosi. This is about the whole Democrat party remaining uninvolved, declining to attempt to make an arrangement.
They won't be permitted to fly anyplace on military planes until the shutdown is finished. This is the thing that they get for celebrating in the Carribean while Trump attempts to work to end the shutdown.
As of now, charges are in progress to remove pay for Congress, and even power them to remain in the Washington swamp until the shutdown closes.
Offer on the off chance that you bolster President Trump keeping Democrats grounded for their shutdown!